Home
NAMRI
National Association of Mold Remediators & Inspectors NAMRI Approved!
Professional Mold Inspection Institute's training is approved by the National Association of Mold Remediators and Inspectors (NAMRI). NAMRI is a non-profit association of mold professionals (mold inspectors, mold remediators, mold labs, etc) that verifies each of its members meet certain requirements and follow the national guidelines for mold inspection and mold remediation.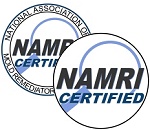 After you complete the mold training courses, you are eligible for a free 1-year membership into NAMRI (a $199 value). After the first year of membership, the cost to renew your membership is normally $149 / year. Some of the benefits of NAMRI membership include a listing on the NAMRI website, use of the NAMRI Member logo on your business cards and advertising, sample advertising materials from NAMRI, and a referral service for website visitors searching for mold remediators or mold inspectors.
Some insurance companies are now requiring mold certifications recognized by these nationally recognized mold societies. With your certification from Professional Mold Inspection Institute and your membership into NAMRI, you should be ready to market your mold inspection or mold remediation business and meet any insurance requirements that may exist for individual insurance companies.
Click the link below to visit the NAMRI website for more information.
---