Home
Residential Mold Inspection Course (CRMI Certification)
Mold Remediation Course (CMR Certification)
Commercial Mold Inspection Course (CCMI Certification)
Mold Remediation Protocols Course
Marketing / Business Development Course




PMII Certified
IICRC Approved for Continuing Education
ACAC Registered Course
NAMRI Approved
Residential Mold Inspection Course
The Residential Mold Inspection Course (CRMI) is designed to give you an introduction to mold, the health effects, and terminology as well as teach you how to do a professional mold inspection and write up a standardized mold inspection (mold assessment) report including di
gital photos, industry standard verbage, report summaries, and more.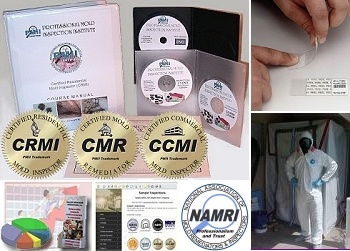 The course not only prepares you for working as a mold inspector, but also provides you with a nationally recognized mold certification once you are done with the course.
Commercial Mold Inspection Course
The Commercial Mold Course (CCMI) covers the differences in residential buildings and commercial buildings. One of the major differences in these types of inspections is the heating / cooling and ventilation systems. This course will teach you how to write up a professional commercial mold inspection report for commercial properties.
Mold Remediation Course
The Certified Mold Remediation Course (CMR) will teach you the basics of how to mitigate or remediate mold. The course covers containment, prevention, cleanup, and clearance testing. This course will give you a mold remediation certification (CMR) recognized by insurance companies and enable you to do mold remediation projects that you may have been outsourcing in the past.
Mold Remediation Protocols Course
This course gives you more in-depth information about mold remediation and the standard protocols followed by mold remediation professionals. The course is designed to be completed after you have already completed the Mold Remediation Certification Course successfully since it builds on some of the basic knowledge attained here.
Marketing / Business Development Course
The marketing course designed specifically for marketing an inspection/remediation business, not only teaches you ways to successfully market a mold business, but it also gives you templates for flyers, brochures, business cards, etc. that you can use for advertising your mold business. You also get access to the certified logos upon completing each course in the package.
Professional Mold Inspection Institute's course's are registered with ACAC, NAMRI, IICRC and some state home inspector boards for continuing education credits (in states that require explicit approval, some states approval is not necessary). You can read more about our certifications'
credentials by clicking here.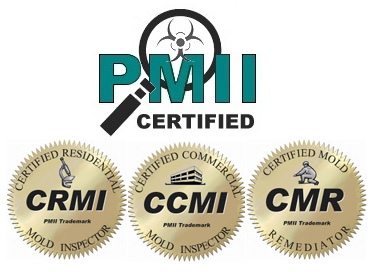 To sign up for the course, click "Add to Cart" in the upper right (scroll up). Once you're signed up, you'll have a username/password to login to the online courses.
---